FRIENDS OF THE HUDSON RIVER PARK: SAVING THE CHELSEA WATERSIDE PLAY AREA!
Hudson River Park is the longest waterfront park in the United States. It was transformed from four miles of decaying piers and parking lots into a park that serves millions of people across NYC. It offers several activities for students, local residents and many visitors. The Park has dogs parks, play areas, sport fields, art, water activities, shopping and food. So, when it comes to a park that covers over five hundred acres and serves so many people, construction and repairs are often needed. 

Friends of Hudson River Park is an independent nonprofit organization that is dedicated to the completion, care and enrichment of the Park. They also create chances for the public to contribute and participate in helping the park grow and operate.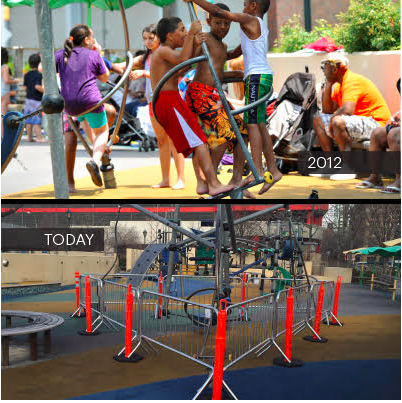 An area in desperate need of repair is the Chelsea Waterside Play Area. The playground was created 15 years ago, the original equipment was created by a Danish company, Kompan and the theme of the playground is "Galaxy Class". The design of the area was created to be accessible to kids of all ages. At this moment, many of the pieces of equipment are worn out and some are not allowed to be used by the public due to safety concerns.  There are also drainage issues and many of the water features are broken.
Friends of Hudson River Park has embarked on a campaign to raise $1.5 million to completely restore and reimagine this important resource for children and families. Contributions to the Capital Campaign will fund myriad renovation projects, including:
Replace all rubber safety surfacing
Renew all play equipment, ensuring structures are safe, stable and age appropriate
Refurbish water play features
Improve drainage system
Overhaul site amenities
Restore entrance gates
Ensure sustained funding for future maintenance and repair
Friends has worked with the community to raise $1,354,011 and needs help to reach the finish line so that construction can begin this fall.  Any donations towards this cause would help restore the play area that so many children and families enjoy for years to come!
To learn more about this project, or make a donation please go to: