A LEGACY OF LOVE: TOUCHING HEARTS AT HOME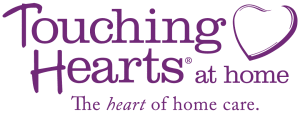 Many of us have family members, friends or neighbors who are elderly and who like to be independent, but could use assistance that would have a significant influence on their daily life. Many of our loved ones do not want to move into a nursing home and instead want to preserve life in their own home. Touching Hearts at Home provides non-medical assistance to senior citizens so that they can live independently. It can be found in several states across the nation and they are each individually owned.
Touching Hearts at Home's mission is to serve seniors' physical, emotional and spiritual needs in the comfort of their own home. They have professionally trained caregivers, which they call carers, to provide the assistance a senior needs but that family members or friends cannot provide. They have many services that cover different necessities, including companionship, meal planning and preparation, homemaker services, memory care, hygiene and grooming assistance and accompanying seniors on errands and appointments. Touching Hearts at Home customizes a plan that fits specific needs, ranging from a few hours a week to twenty-four hour care.
Touching Hearts at Home helps seniors in any area that is non-medical. The goal is to allow seniors to maintain their independence and also to prevent accidents that would require medical attention and potentially prevent seniors from being able to continue living on their own.
In addition to New York, Touching Hearts at Home's services can be found in fourteen other states. Craig Sendanch was inspired to bring it to Manhattan and Brooklyn a couple of years ago because of his own personal experiences with his family and his background in hospitality and marketing.
Craig said the biggest challenges that he faces are convincing the clients' families to trust the caregivers and also convincing the clients themselves that they need the help when they are used to having total independence. He said that once they try the many services they offer, they will understand how it can allow for independence instead of taking it away from them. Touching Hearts at Home is a spectacular company that can be life changing for many people. More information can be learned about our local company at www.touchinghearts.com/nyc.