LI-LAC CHOCOLATES: THE DEFINITION OF OLD SCHOOL NEW YORK
It was a cold Wednesday in the middle of February, and I found myself trekking through the busy streets of Manhattan to get to Chelsea Market – possibly the hippest tourist attraction in all of New York City. Once I arrived, I walked through the market, dodging people and occasionally taking the time to duck into a new store I hadn't been in before.
It was then that I saw it – the new Li-Lac Chocolates store. And believe me, you can't miss it. In a market full of small, enclosed stores, Li-Lac chocolates stands out. The layout is so grand and open you'd think it was meant to be the main attraction of the entire place.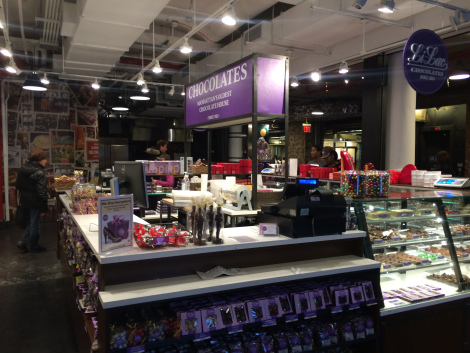 As I was excitedly running around taking pictures, a lovely woman behind the counter offered to help me. When I explained that I was with the chamber of commerce, we started chatting and she asked me if I'd like to try anything (disclaimer: I am a huge chocolate person, so choosing only one thing to try was basically the hardest decision I could have ever made). After going back and forth in my head for a full minute, I decided to ask her what her favorite was. She immediately suggested the butter crunch – and, oh my gosh, I'm glad that she did. I warned her that I wasn't much of a toffee person but I can honestly say that this butter crunch completely changed my opinion. I realized then and there that the toffee I had been trying in the past wasn't real, hand-crafted toffee – and Li-Lac Chocolate's was.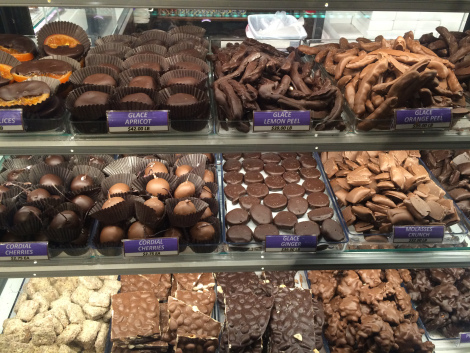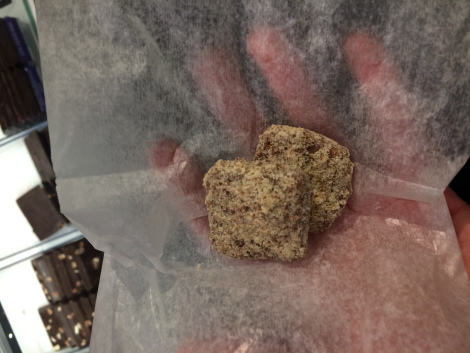 Shortly after my toffee-epiphany, I met with Christopher Taylor, the CFO and co-owner of Li-Lac Chocolates. Right away, it became obvious that Chris was a very warm and kind person. We ended up getting coffee and talking for a long time, discussing the philosophy and history of the company. I immediately commented on how classic and delicious the chocolates tasted, and he pointed out that that's because it really is classic – started in 1923 by George Demetrious, Li-Lac chocolates' Christopher Street location quickly became a New York classic. In fact, they are still using the same exact recipes as they did almost 100 years ago. "Some people come in and swear that our chocolate tastes exactly how it tasted when they were kids," Chris tells me. And they'd be right, although we were both impressed that they would even be able to remember that far back.
So how does a company become a staple in the ever-evolving New York City? "Just be genuine," Chris says honestly. "Don't focus on the transactions, focus on the relationships you are building with people." And Li-Lac chocolates does exactly that. They truly believe in fostering the relationships they have with their customers and the people they work with, even pointing out that they have a great relationship with the store's landlords. "No one in New York is supposed to like their landlord," Chris laughed. "But we really do have a fantastic relationship."
Chris also points out a philosophy that was instilled by one of their past owners, Martha Bond, that they try and live by today – 'don't wait for the community to come to you, go to the community'. Since Chris lives in the Chelsea neighborhood, he says that he can't walk a block without getting stopped or greeted by a customer. While most people would find this annoying, Chris feels that this just speaks to the tight-knit community that Li-Lac Chocolates has helped to foster.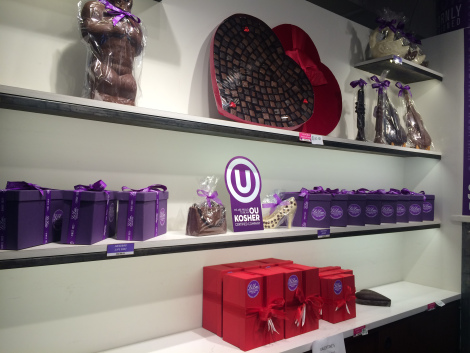 Since opening their first store in 1923, Li-Lac Chocolates has expanded quite a bit. Now the store has five different locations, including their Brooklyn factory (which you can take a tour of!). The Chelsea Market location is the newest, having opened just a few weeks ago, and, believe me, it is worth checking out.
I had always known that Li-Lac Chocolates made great products, but after meeting with their team I realized that they are great people too. Supporting a business always means so much more when it becomes crystal clear how much every person involved cares about the company – from the owners all the way down to the sales associates. Li-Lac Chocolates is, and will continue to be, a New York City staple. Now, if you'll excuse me, I have to go finish the rest of my butter crunch.