True-blue heroes honored at chamber awards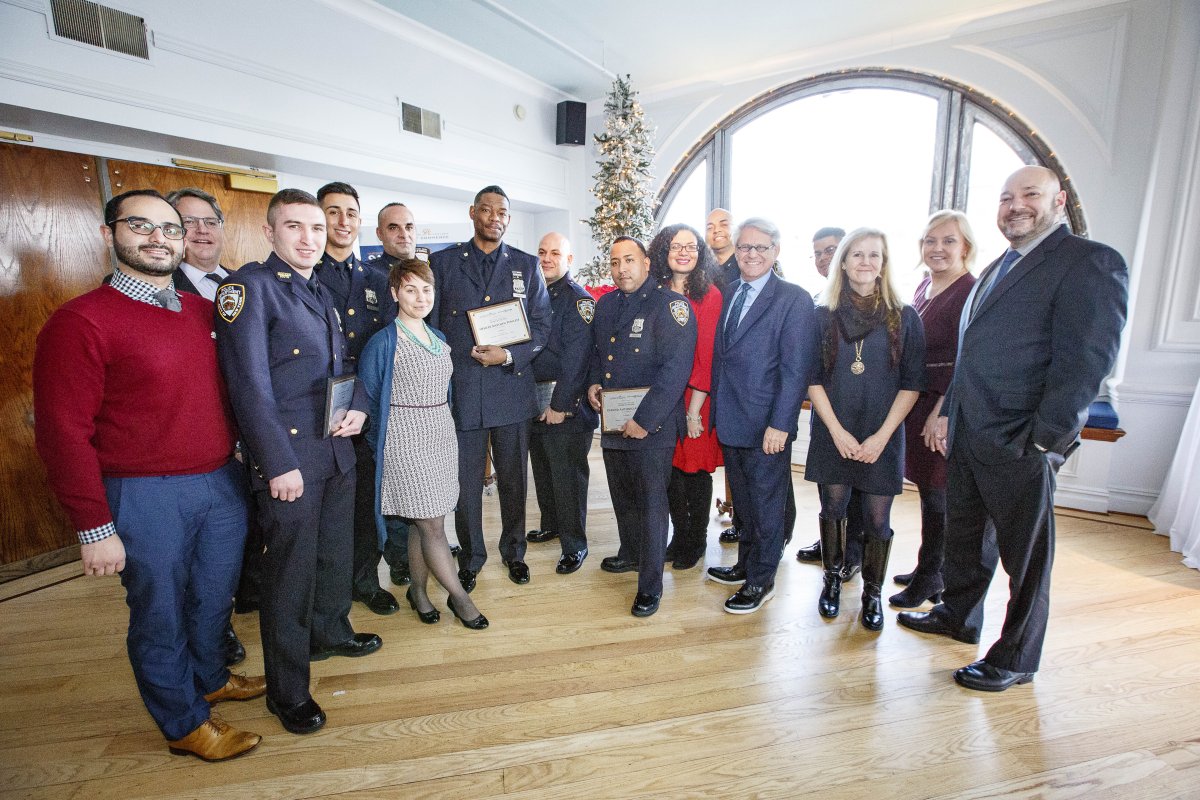 While working a street fair in September, Police Officer Thomas Sheehy witnessed a vehicle collision at University Place and E. Eighth St. involving a moving car that slammed into a parked one. As the Sixth Precinct officer approached the crash, he noticed the female driver in the front seat, bent over, unresponsive.
After attempts to open the driver's door and passenger doors failed, Sheehy used his expandable baton to break the rear driver-side window. Once the driver was extricated from the car, Sheehy called for an ambulance and began administering chest compressions to the victim. Backup officers arrived bearing a defibrillator, and Sheehy attached the electro-pads to the woman, gave two shocks, and she regained a stable pulse. Fire Department EMS arrived at the scene and the woman was transported to Mount Sinai Beth Israel Hospital, at E. 16th St. and First Ave.
"I really have to thank all the officers who were with me that day," Sheehy said in his acceptance speech for Officer of the Year at the 14th Annual Safe City, Safe Streets awards luncheon, held by the Greenwich Village-Chelsea Chamber of Commerce. "It was teamwork that helped the girl get out of the situation that she was in. I'm really honored for this award."
Sheehy has been a member of the New York Police Department for six-and-a-half years and a member of the Sixth Precinct since 2013. Additionally, he volunteered to assist in the department's field-training program, in which he trained 34 officers newly assigned to the Greenwich Village precinct.
Robert Boyce, chief of detectives of the New York Police Department, was the event's keynote speaker. Addressing the assembled officers, families and friends, Boyce said, in light of recent terror events — including two ISIS-inspired terrorist attacks in Manhattan, on Oct. 31, which killed eight people, and Dec. 11, which injured three — it's a "dangerous environment to be an officer, whether uniformed or not."
Sheehy, along with six other officers and one sergeant from other Manhattan South precincts, were honored with Officer of the Year awards from their respective commands. The award was given for going above and beyond, demonstrating outstanding community policing, and keeping neighborhoods safe.
In the East Village's Ninth Precinct, Officer Antonio Arroyo, a 13-year department veteran, was honored. During his time with the department, Arroyo has been assigned to various details, such as the Street Narcotics Enforcement Unit, or SNEU, Anticrime and Field Intelligence, racking up 280 arrests. As the Ninth's assistant Field Intelligence officer, Arroyo has developed confidential informants and gathered valuable information that has helped lead to larger arrests. In the past year, he has taken numerous guns off the street and made several arrests of high-priority perpetrators responsible for violence and drug trafficking in the precinct.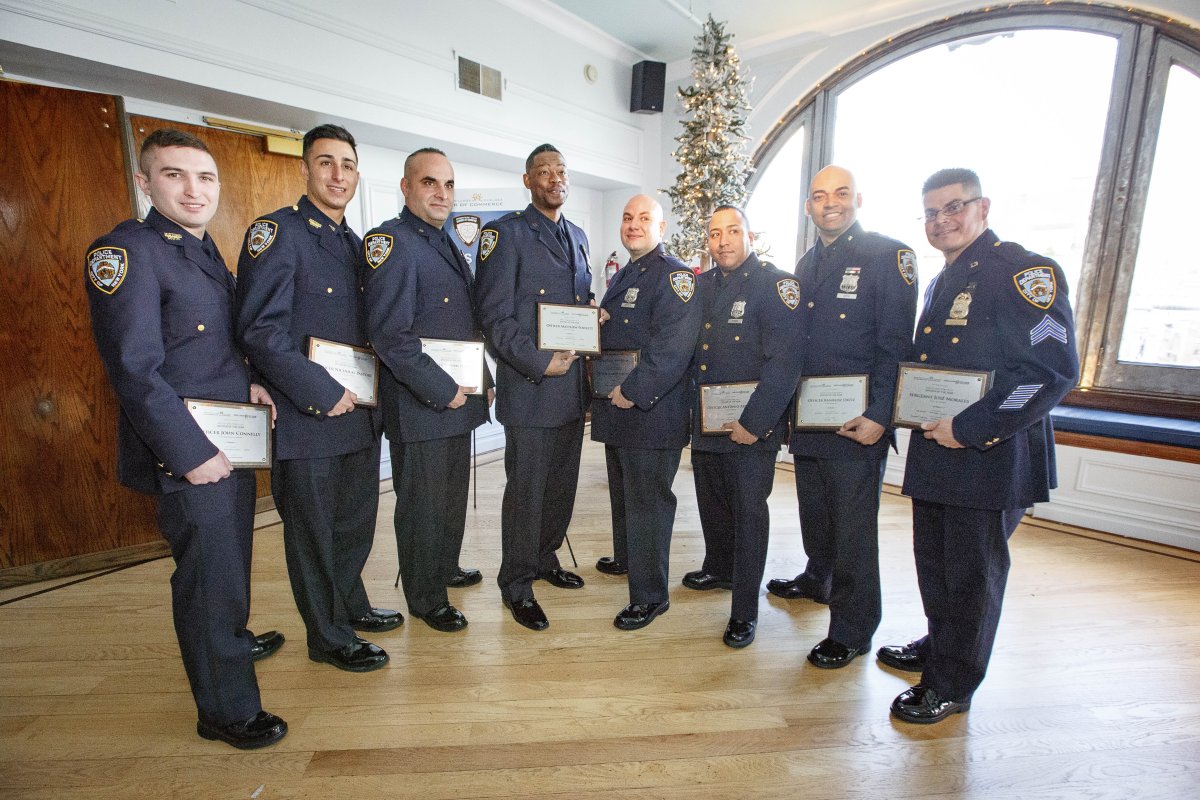 In the Fifth Precinct, covering Chinatown and Little Italy, Kharloz Ortiz was named Officer of the Year. A native of the Dominican Republic, Ortiz became a member of the N.Y.P.D. in 2008. After starting out in the Transit Bureau in the Bronx, he was assigned to the Fifth in 2009 and assigned to Patrol. Due to his hard work, he was assigned to the precinct's Anticrime team. Ortiz is the recipient of a Meritorious Police Duty Medal and has more than 350 career arrests, 53 of them for major felonies.
Sergeant José Morales became an N.Y.P.D. officer in 1992. Seven years later, he was promoted to sergeant and assigned to the 13th Precinct — covering Manhattan east of Chelsea's 10th Precinct — as the Conditions Unit supervisor. In 2007, he was made supervisor of the anticrime program. From 2007 to last Thursday, his team had made 1,380 arrests, including 359 felonies and 1,021 misdemeanors.
In 2013, Morales was promoted to sergeant special assignment, which is only given to a select few sergeants out of more than 5,000 sergeants within the N.Y.P.D.
"I've been doing anticrime since 2007," Morales said in his turn at the microphone. "A lot of my guys have gone up to be some of the finest detectives throughout the city. Some of them have moved up the ranking — sergeant, lieutenant — and I have one currently that's going to be a captain."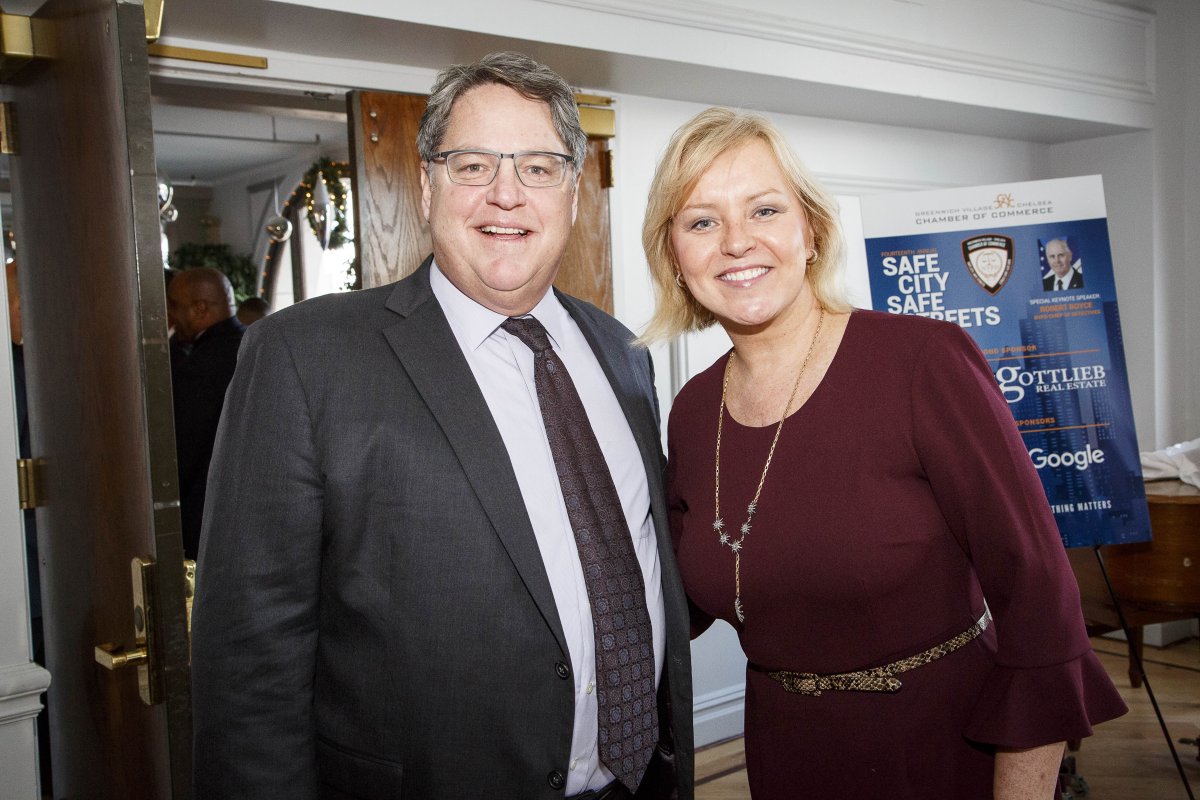 Teamwork was the theme of the afternoon as two pairs of officers were awarded from the 10th and Midtown South precincts.
Officers Matthew Powlett and Joseph Spector both became members of the force on Jan. 9, 2006. In February 2011, they became patrol partners. Since this past February, the pair has been assigned to Sector B of the 10th Precinct (between W. 29th and 21st Sts., west of Seventh Ave.) under the Neighborhood Coordination Officers program. During their six-year partnership, they have made more than 150 arrests.
Boyce saluted the department's new N.C.O. program, calling it highly beneficial to officers and community members alike, allowing them to work better together.
"Besides their arrest record, they exemplify the definition of an N.C.O. officer," Justin McManus of Peter McManus Cafe, at W. 19th St. and Seventh Ave., said of Powlett and Spector. "They both continually display leadership and mentoring qualities that are second to none within the 10th Precinct." McManus bar / restaurant was a sponsor of the event.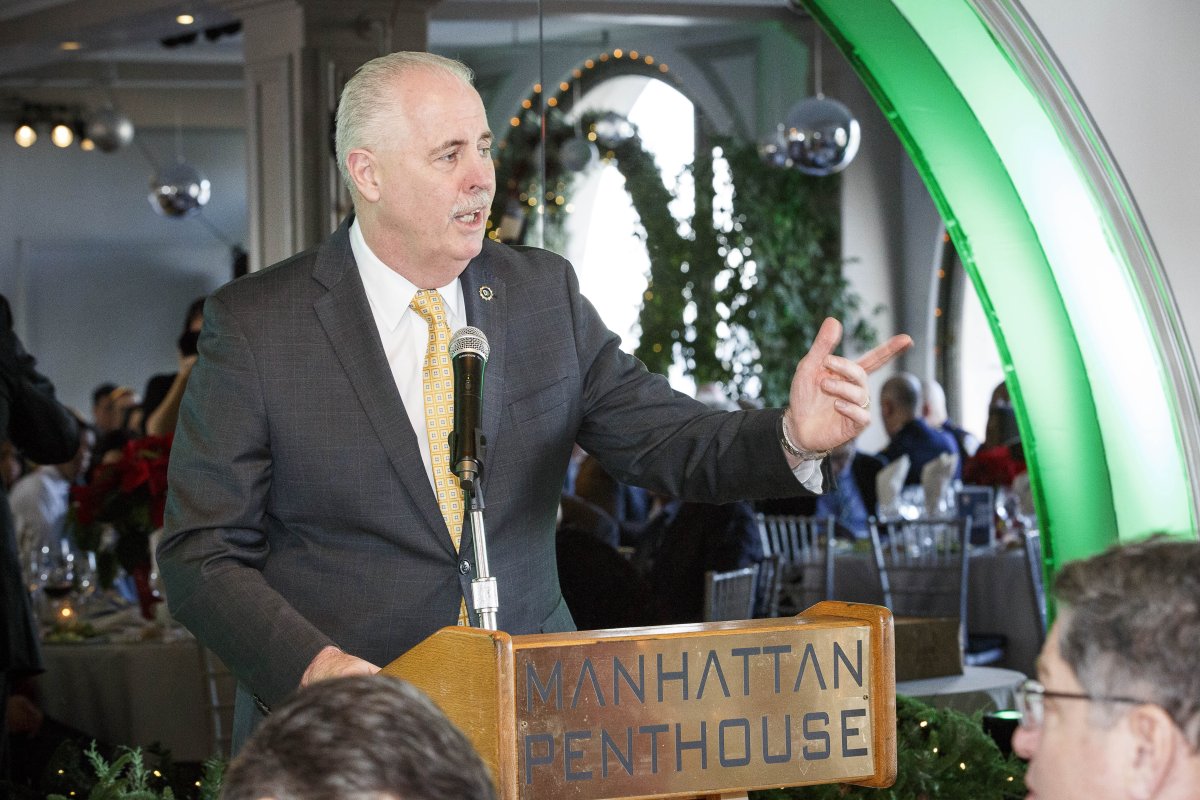 Another dynamic Officers of the Year duo, with a lot in common, accepted the award graciously as they are relatively new to the job.
Midtown South Officers Nicholas Pastore and John Connelly were both raised on Long Island, in Deer Park and Garden City, respectively. They both come from a line of police officers and are also currently working toward their master's degrees at John Jay College of Criminal Justice. They entered and graduated from the Police Academy in 2015, and shortly thereafter joined the Midtown South Precinct.
Within six months, they successfully closed out two open assault cases and three robbery patterns. They even aided — while off duty — in arresting three wanted criminals.
Chief Boyce has been in law enforcement for more than 35 years.
"I'm at the end of my career," he told the audience. "I'm 62 years old and I have to be out by my 63rd birthday. But I would switch with any one of those guys."