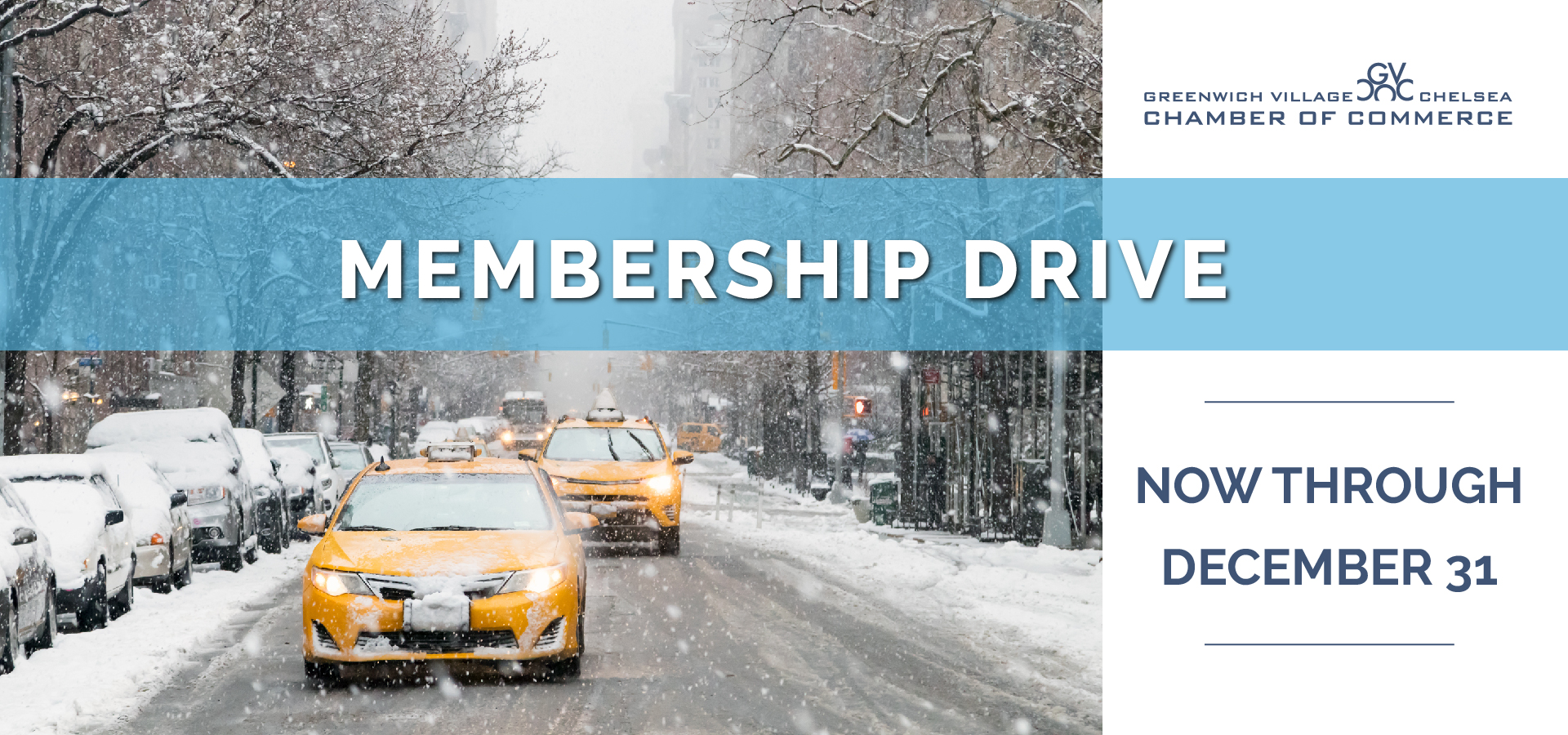 New Member Application Fee Waived
Renewals Receive 10% off
---
If your business is located in Greenwich Village, Chelsea, Soho, Noho, Union Square or Flatiron, or you do business here, then you should be a member of the GVCCC.
The GVCCC offers a variety of membership packages to meet your specific needs and goals. From solopreneurs, to mom 'n' pops, to large corporations, we have a membership that is right for you. Each of our membership levels guarantee you access to exclusive benefits that will support the growth of your business.
---
Reach 10,000+ Subscribers
The GVCCC weekly newsletter goes out to over 10,000 active subscribers every week. As a member, you get to advertise in the newsletter 4x a year! Our newsletter has an average open rate of 30% which is nearly double the industry average.

Shop Local
Our annual Shop Local campaign encourages visitors and residents to patronize local businesses. With a GVCCC membership your business can participate in the campaign for FREE.
 
Event Discounts
Check out our event calendar for upcoming workshops and networking opportunities. As a member you will receive free or discounted tickets at all GVCCC hosted events.

Be More Social
GVCCC strongly encourages all our members to be active participants on social media. To that end, we have take an active role in boosting members' social media presence. We recommend that all of our members follow each other's social media accounts.

Expand Your Network
One of our main goals is for you to meet new potential clients, suppliers, and partners. We do this by organizing several networking meetings, luncheons, and mixers throughout the year, each with high-quality leads ready to meet you.

Leverage Our Network
We have strong relationships with community based-organizations and city, state and federal agencies.  As a member you can leverage our relationships with:
Local NYPD precincts
Business Improvement Districts
NYC Small Business Services
Elected Officials
Learn How To Grow Your Business
Attend panel discussions, seminars, and workshops to learn about important issues, new strategies, and innovative mechanisms for your business. Members are also provided speaking opportunities Chamber events. We can even customize an event specifically for your areas of expertise!

Join Us for Business Expos & Markets
We always maintain a strong presence at business expos all year round, and we bring our members' promotional materials with us! Additionally, our members are eligible for complimentary tickets to these events. 

Get Referrals
We only refer within the Chamber family. Receive quality leads and even dedicated introductions to all our members through personal email introduction.
---
Renewing Your Membership
Renewing your GVCCC membership has never been easier! The easiest method to renew is to select the "auto-renew" option on the member registration form. Whether you choose to auto-renew or not, we'll notify you 30 days prior to your membership expiration date.
Questions? Contact our Executive Director, Jesse Gericke at execdirector@villagechelsea.com