From fashion to food to nightlife to the arts, Bleecker Street in Greenwich Village, NYC has always been the epicenter of downtown cool. For everyone from Bob Dylan to Dylan Thomas, Jimi Hendrix to Alicia Keys, Bleecker street has been the center of what's great about New York City.
Now with #ShopBleecker, the Greenwich Village Chelsea Chamber of Commerce is reminding everyone that Bleecker Street is still one of the best places in the city to shop, eat, and play.  Where else can you find the perfect slice, the perfect pint, the perfect dress, the perfect guitar, and the perfect gift, all on 20 of the most beautiful and historic city blocks you'll find anywhere in the world?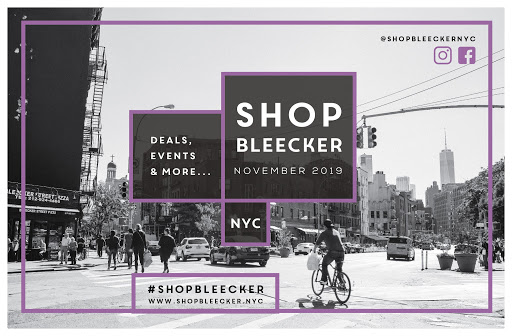 Greenwich Village Shopping Deals and Promotions
This November, Bleecker Street will be unmissable, with deals, raffles, giveaways and more!
In order to reinvigorate Bleecker Street throughout the month and beyond, neighborhood businesses have come together to offer incentives to you for shopping. Many have also donated goods and services to be raffled off on both November 17th and 30th. These exciting prize packages are #ShopBleecker's way of saying "thank you" for supporting our businesses. 
---
SAVE MONEY, WIN PRIZES AND SUPPORT A LOCAL COMMUNITY!
Visit our website www.shopbleecker.nyc for more information and a complete list of participating businesses, deals, prizes and events. 
---
Are you a Bleecker Street business owner?
Join us, and help make sure everyone remembers that Bleecker Street is as hip as it gets by signing up to become a participant or sponsor of this important program. Contact the Chamber of Commerce at maria@villagechelsea.com
---
About Greenwich Village-Chelsea Chamber of Commerce (GVCCC)
For over 69 years, the Greenwich Village-Chelsea Chamber of Commerce (GVCCC) has served as the leading voice of business in our communities. Founded in 1949 by a select group of small business entrepreneurs in Greenwich Village, the Chamber has steadily grown to service Greenwich Village, Chelsea, SoHo, NoHo, Union Square, Flatiron, and the East Village. Our mission is to provide dynamic business and civic leadership in New York City and position the Greenwich Village Chelsea Chamber of Commerce as the leading voice for business in the communities we serve.
---
Shop Bleecker Press Release
#SHOPBLEECKER, A LOCAL REVITALIZATION AND SHOPPING INITIATIVE, KICKS OFF NOVEMBER 1st, 2019
The Greenwich Village Chelsea Chamber of Commerce and businesses along and around Bleecker Street come together to offer events, promotions, raffles, giveaways and more!    
New York, NY (November 1, 2019) – The GVCCC kicks off an intensive local revitalization effort on the twenty blocks that make up the historic Bleecker Street with its second annual #ShopBleecker initiative this month. Running from Thursday, November 1st through Friday, November 30th, #ShopBleecker will highlight many of the unique businesses on the thoroughfare with a variety of events, promotions, raffles, giveaways and more.
Bleecker Street businesses have many individual qualities and #ShopBleecker will provide the people in the community a chance to learn more about the people behind the businesses while experiencing the unique products and services that these businesses offer.
The coalition of businesses created by this initiative encourages the community to shop locally in person on or around Bleecker Street for goods and services rather than go online. As such, many are offering incentives to shoppers, including samples, promotions, and gifts with purchase throughout the month- with special incentives offered at #ShopBleecker Day on November 17th.
As part of the launch, participating #ShopBleecker businesses will provide customers with #ShopBleecker postcards, advertising booklets, and pens. New to #ShopBleecker is the launch of an app sponsored by Locasaur which showcases the promotional offerings and strengths of #ShopBleecker participants.
One goal of this initiative is for shoppers to see the strength of the businesses and their commitment to revitalizing this shopping district wherever they look. Another is to stimulate new business openings by working with local landlords and agents to match them with businesses looking for pop-up or short-term leases in the neighborhood, mitigating the rising vacancy issue, which currently stands above 20%.
"At a time when the face of retail is changing, it is critical that we support mom-and-pop shops and restaurants to maintain the very essence of our city and our neighborhoods. Bleecker Street is not only a jewel of the Village, but of the entire city, and initiatives like #ShopBleecker will bring more foot traffic and help revitalize the retail thoroughfare. I applaud the Greenwich Village Chelsea Chamber of Commerce for this effort to aid small businesses," said NYC Council Speaker Corey Johnson.
If you want to save small business and preserve local neighborhood commerce, you must shop locally. This initiative incentivizes local shopping through following activities:
1. For the entire month of November, the Chamber and local businesses will reward individuals shopping on Bleecker by allowing them to enter a raffle to win prizes. The more a person spends on Bleecker St, they more tickets they will earn. The raffle will be drawn on November 17th and November 30th ;
2. Throughout November, participating merchants will offer promotions to entice people to shop on Bleecker that the Chamber will market and promote; and
3. On November 17th , the Chamber will host #ShopBleecker Day where there will be events, press and more.
Show your support for all the businesses in this historic neighborhood and reinvest in the city we call home.
Visit www.shopbleecker.nyc for a complete list of participating businesses, deals and events.    
---